Welcome to Curbside Creamery!
Check out our segment on FYI Philly!

Curbside Creamery is a Philadelphia-based gourmet dessert food truck that serves delicious homemade ice cream at festivals and events in and around the city. The mobile ice cream shop offers nostalgic flavors, fun toppings, and handmade waffle cones and bowls. Pair any of our delicious flavors with freshly baked cookies to create your own ice cream cookie sandwich.
Curbside Creamery is owned and operated by West Philadelphia based husband and wife duo and was nominated for a 2014 Vendy Award in the Best Dessert Category!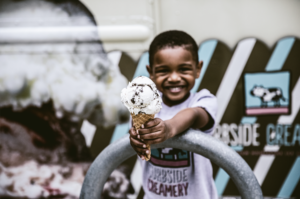 We Cater Too! Our ice cream is the perfect treat for weddings, corporate events, private parties and more. Click here to request our ice cream at your next event!
Make sure to like Curbside Creamery on Facebook and follow us on Twitter and Instagram so you will know where the truck will be serving up our homemade ice cream next!