Welcome to Curbside Creamery!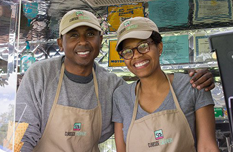 Curbside Creamery is a Philadelphia-based gourmet dessert food truck serving premium ice cream fresh from Lancaster County. The mobile ice cream shop serves delicious homemade waffle cones and waffle bowls, as well as ice cream cookie sandwiches and Belgian Waffle Sundaes.
Our ice cream supplier creates pure homemade ice cream, consisting of all natural ingredients and boasting over 14% butterfat. Curbside Creamery is serving up nostalgic flavors such Mint Chocolate Chip, Butter Pecan and rich Chocolate just to name a few, in addition to fan favorites such as Snickers and Chocolate Oreo. Choose from any of the decadent flavors and pair them with freshly baked gourmet cookies to create a customized ice cream sandwich.
Curbside Creamery is owned and operated by West Philadelphia based husband and wife duo and is nominated for a 2014 Vendy Award in the Best Dessert Category!
Make sure to like Curbside Creamery on Facebook and follow us on Twitter and Instagram so you will know where the truck will be serving up our homemade Lancaster ice cream next!